Lifestyle
5-Day Vegan Meal Plan For First-Timers
by Aly Findlay
5min read
This 5-day meal plan will be easy to follow if you are trying out the vegan diet for the first time. It's been created by our in-house registered nutritionist and is perfectly balanced to make sure you are getting all the essential nutrients for a healthy vegan diet. It includes some classic allplants meals and recipes for veganised versions of your favourite dishes to keep things familiar. 
Veganism + Our Meal Plan
The vegan diet consists of foods made only from plants - meaning no fish, meat, eggs or dairy or any other animal products. For more information about veganism head over to our other article dissecting the diet here.
This meal plan consists of a variety of delicious vegan meals made from whole foods and packed with all the essential nutrients. When approaching the vegan diet for the first time one of the most important things to remember is that variety is key, as long as you are eating a large variety of fresh fruits and vegetables, legumes, pulses, beans, carbohydrates and proteins this will ensure all of your dietary needs are met. 
Will I get enough protein on the vegan diet? 
There are many great sources of plant-based protein in the vegan diet. It is important to combine different types of plant proteins, as not all plant foods give you the complete set of amino acids required by the body. By eating a variety of protein sources, you are more likely to access all the amino acids your body needs. 
Some of my favourite protein-rich foods include tofu, edamame, beans, peas, lentils, nuts, seeds and whole grains. If you are hitting the gym often and looking to up your protein intake for muscle building there are plenty of tasty vegan protein powders on the market too. 
There are a few micronutrients that are less abundant in vegan foods such as vitamin B12, vitamin D and omega 3 so it would be worth looking into supplementing these or taking an all-around vegan supplement to make sure you have an adequate supply of these nutrients in your diet. 
If you are not wanting to take supplements, try to incorporate these foods into your diet; 
For Vitamin B12: yeast extract (marmite), yeast flakes, and fortified foods such as cereal and plant milk. 
For omega 3: chia seeds, flax seeds, walnuts, hemp, kiwis. The best vegan source comes from algae and algae oil, which is often used in supplements. 
For vitamin D: the main source is from sunlight - our body creates vitamin D when there is direct sun to skin contact. So during the summer months, a supplement may not be necessary as long as you are getting about 30 mins of sunshine a day. However, during the winter months, it is highly recommended to supplement. 
Day 1 
Breakfast: PB + J Oat Pot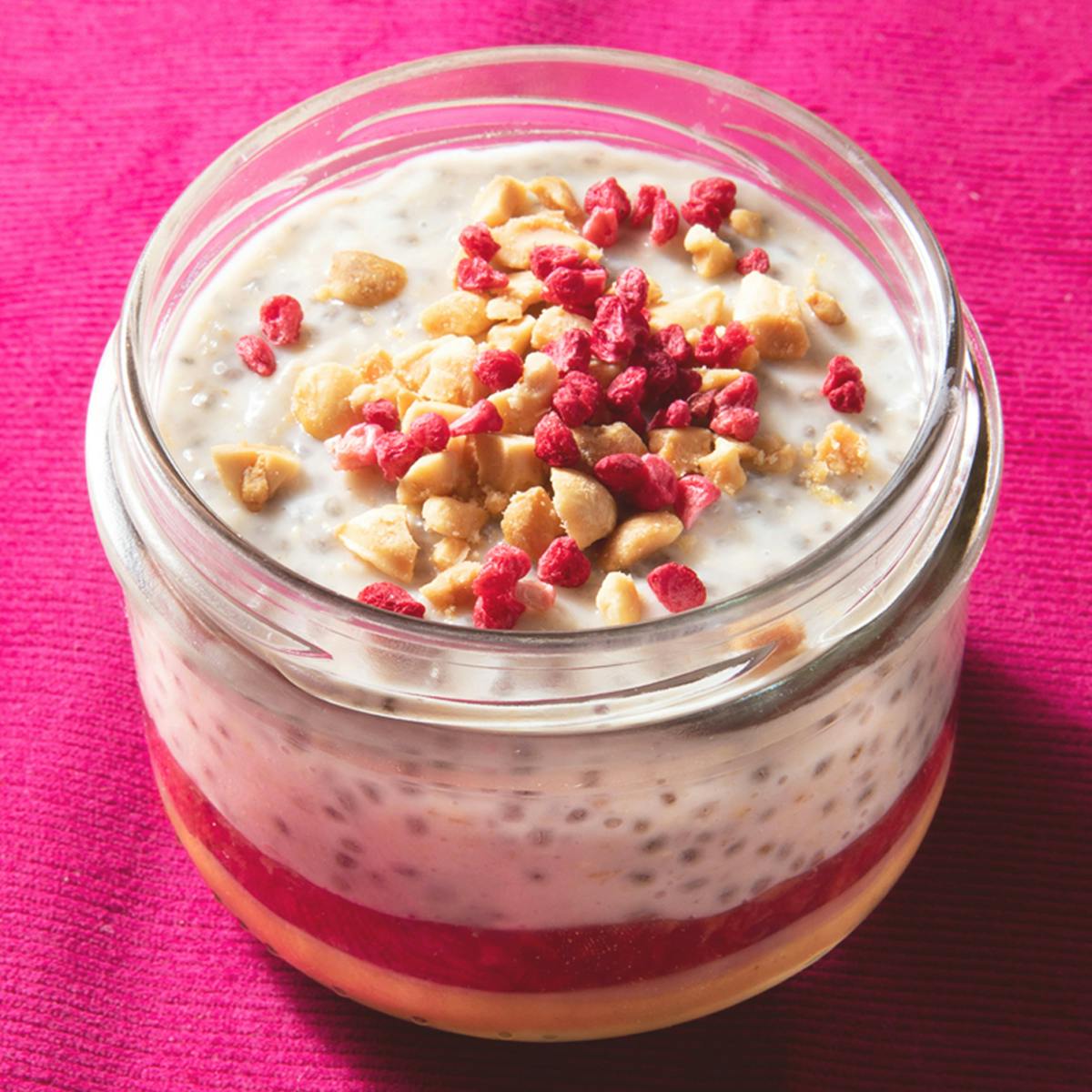 This jar of warm and creamy oats is a quick and comforting way to start the day. Oats make a great breakfast for helping you feel full until it's time for lunch. A play on a childhood favourite flavour combo, these oats are a source of antioxidants and protein thanks to the raspberry jam and peanuts.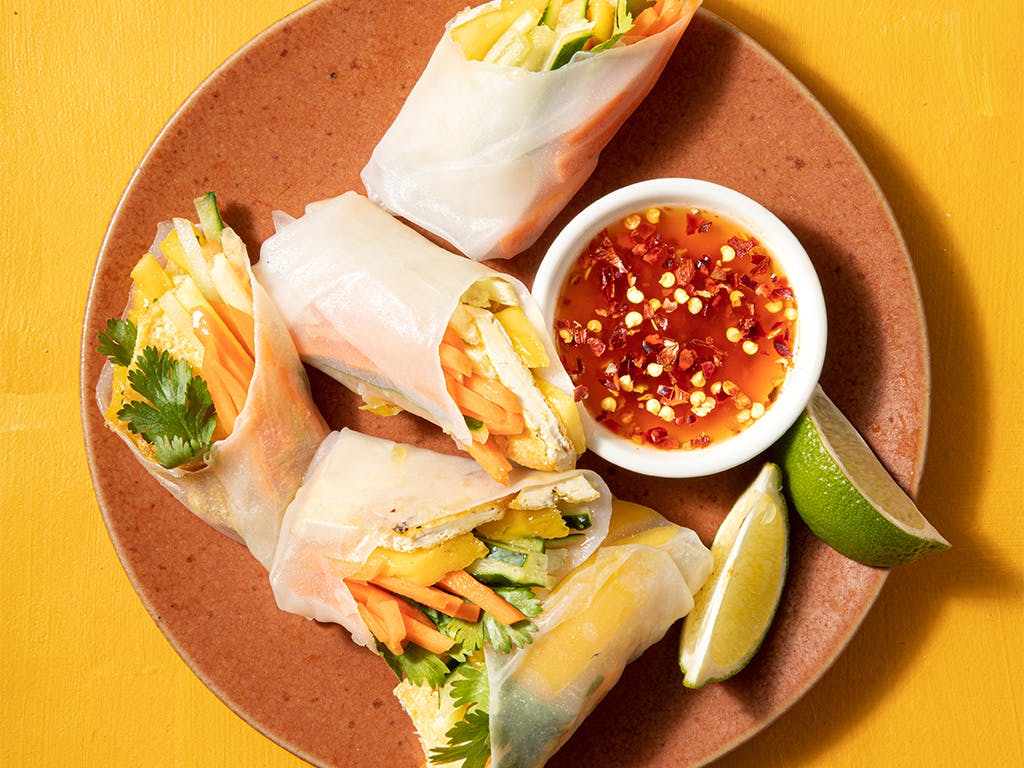 These tofu summer rolls are so fun and easy to make. You can pack them full of all your favourite veggies along with some tofu or tempeh for a source of protein. Don't skip out on the fresh herbs, they make all the difference to the flavour and are rich in vitamins.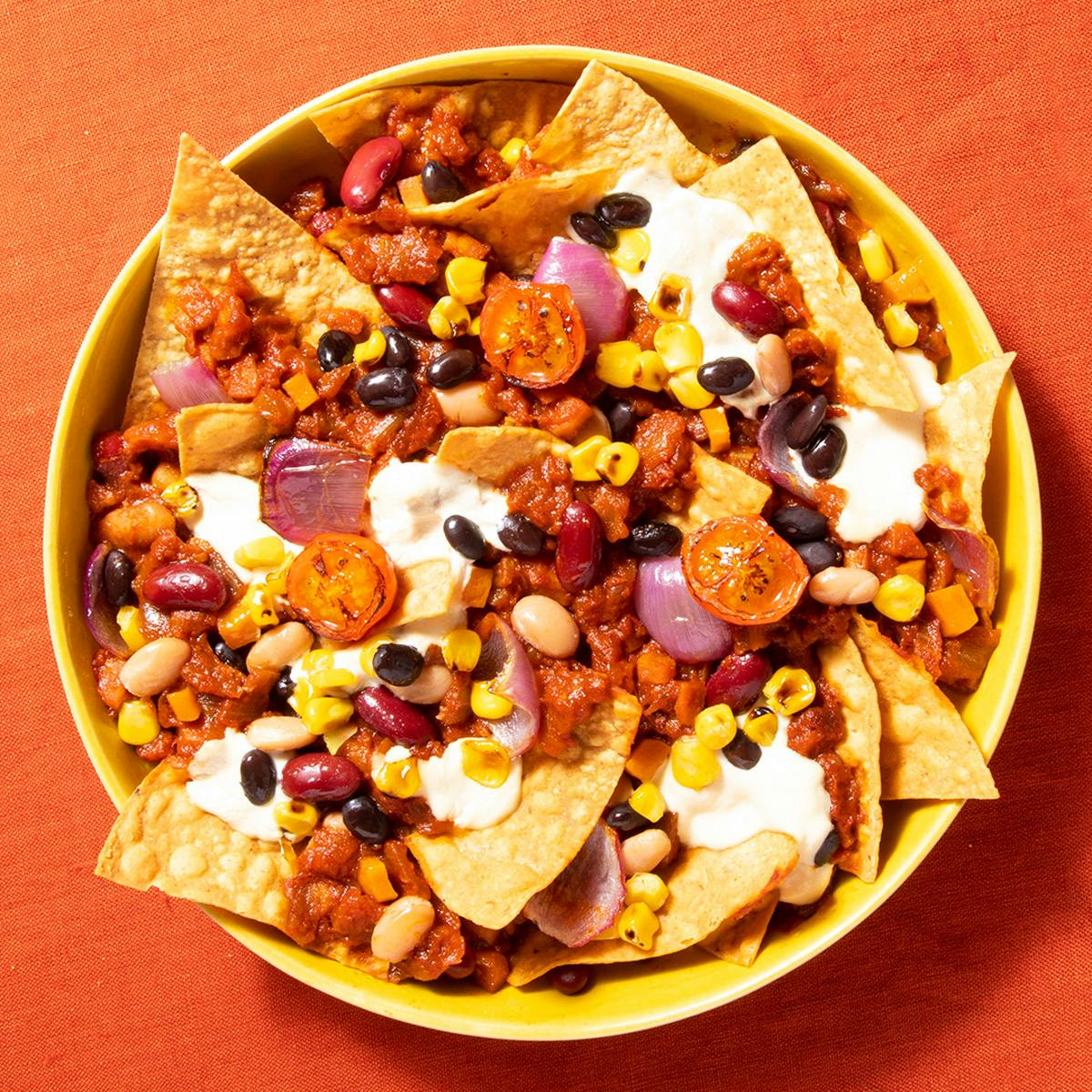 Sweet and lightly spiced tomato chilli with borlotti, kidney, and black turtle beans, topped with roasted red onions, cashew sour cream, charred sweetcorn salsa and crunchy tortilla chips. This chilli is packed with fibre and protein thanks to the hearty helping of kidney, borlotti and black turtle beans, and it also has 4 out of your 5 a day!
Day 2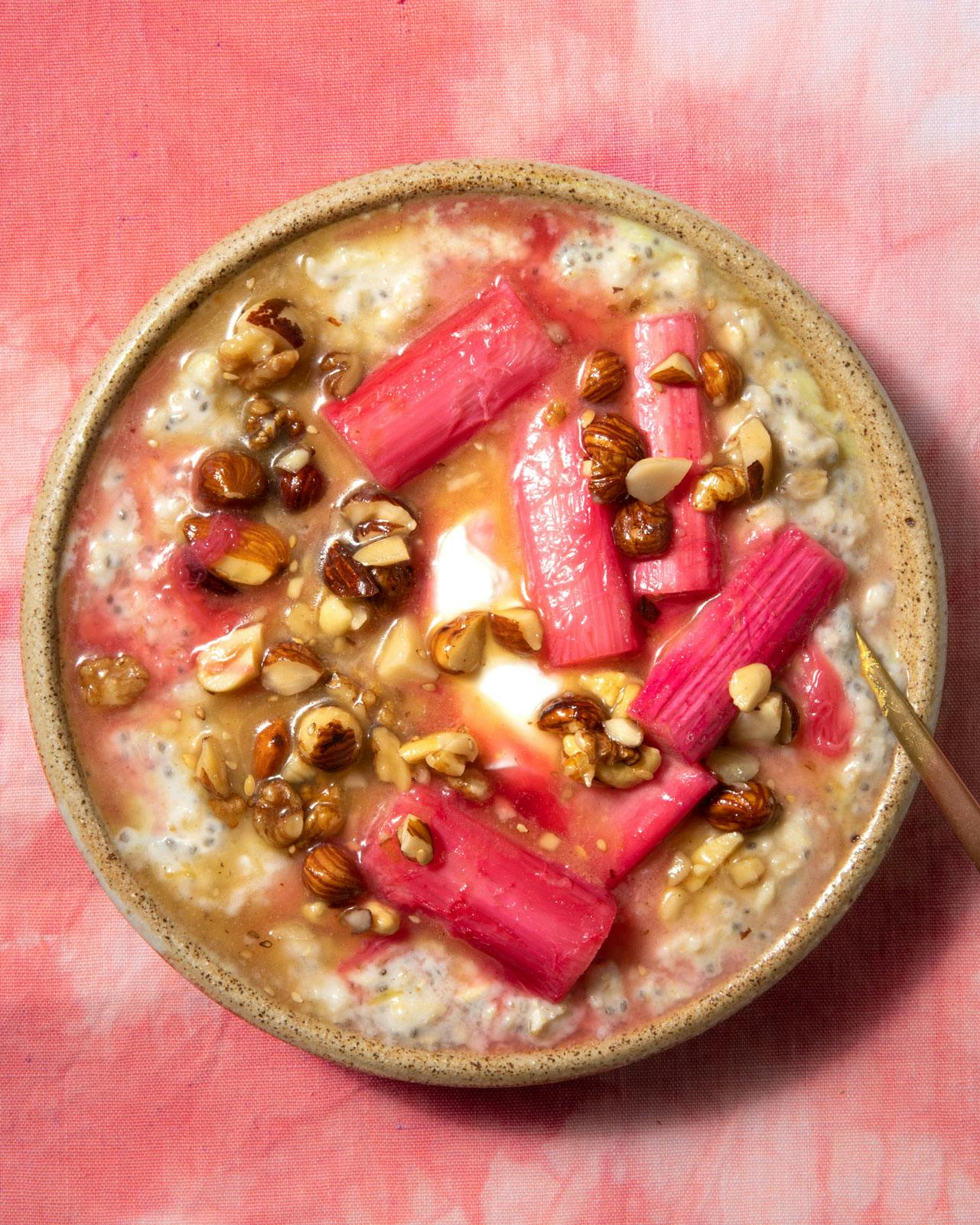 Chia seeds are a great source of omega 3 fatty acids, protein and fibre. A great nutritional boost to any recipe but also soak of the flavour and liquid from anything you soak them in to make a tasty nutritious chia pudding. Top this with your fresh fruit of choice and it's a great healthy way to start your day.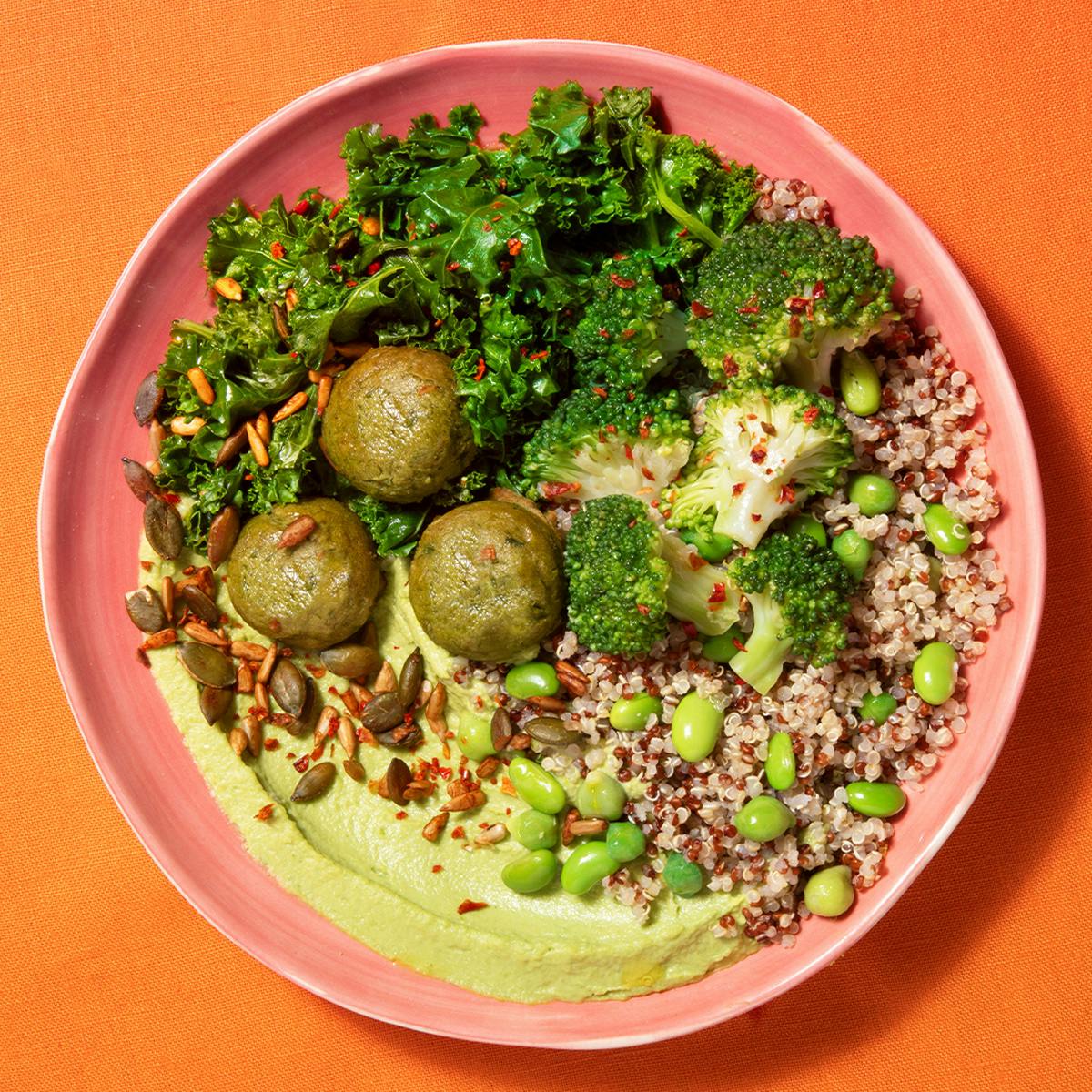 Grains and green chickpeas served with garlic chilli kale and a mighty pea and mint smash. This allplants lunch dish has 3 of your 5 a day, iron and vitamin C it is also high in protein thanks to the green chickpeas, edamame, quinoa and peas.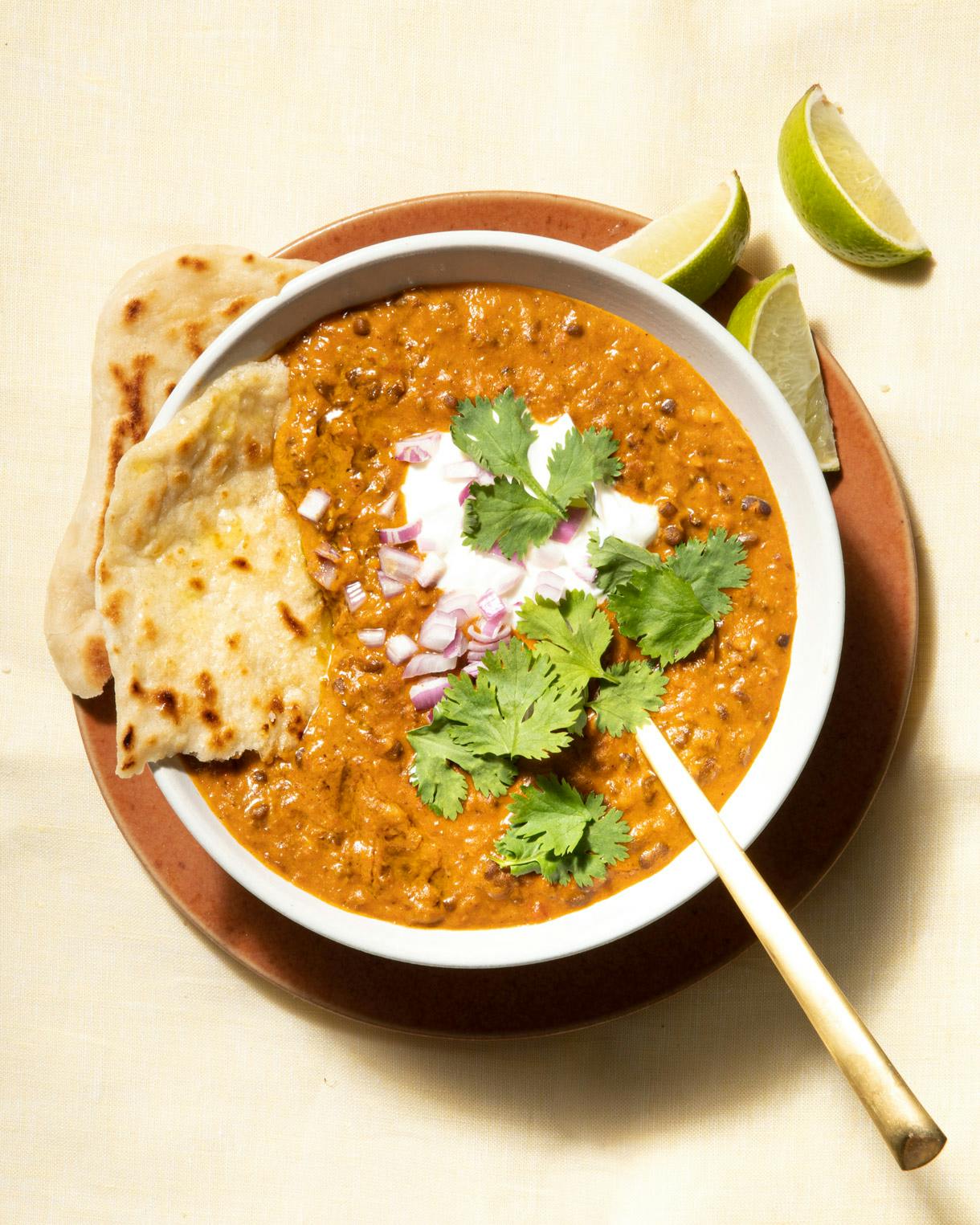 This vegan urad dal is creamy, rich, and hearty and our Sunday batch cooking recipe of choice - becoming more and more flavourful with every hour it sits in the fridge. Black lentils are packed with 26g of protein per 100g, and are also a great source of fibre, iron and calcium. 
Day 3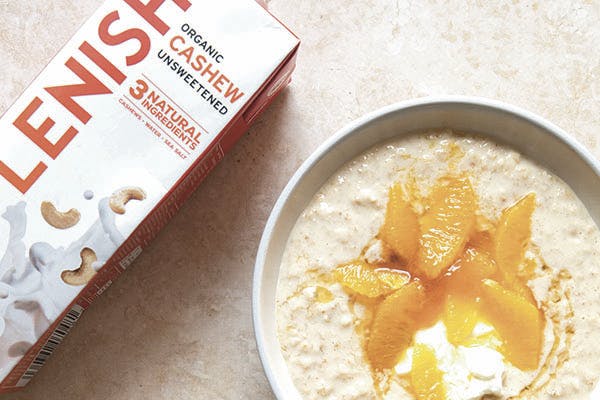 This 15 minute just-sweet-enough, creamy and crunchy bowl of oats and stewed fruit is what your busy week needs. To save even more time in the morning, make a big batch of it on a Sunday and have breakfast ready in minutes all week long. Oats are one of the healthiest ways to start your day, they are full of fibre to keep you full and won't spike your blood sugar levels. They are so versatile and can be so delicious too!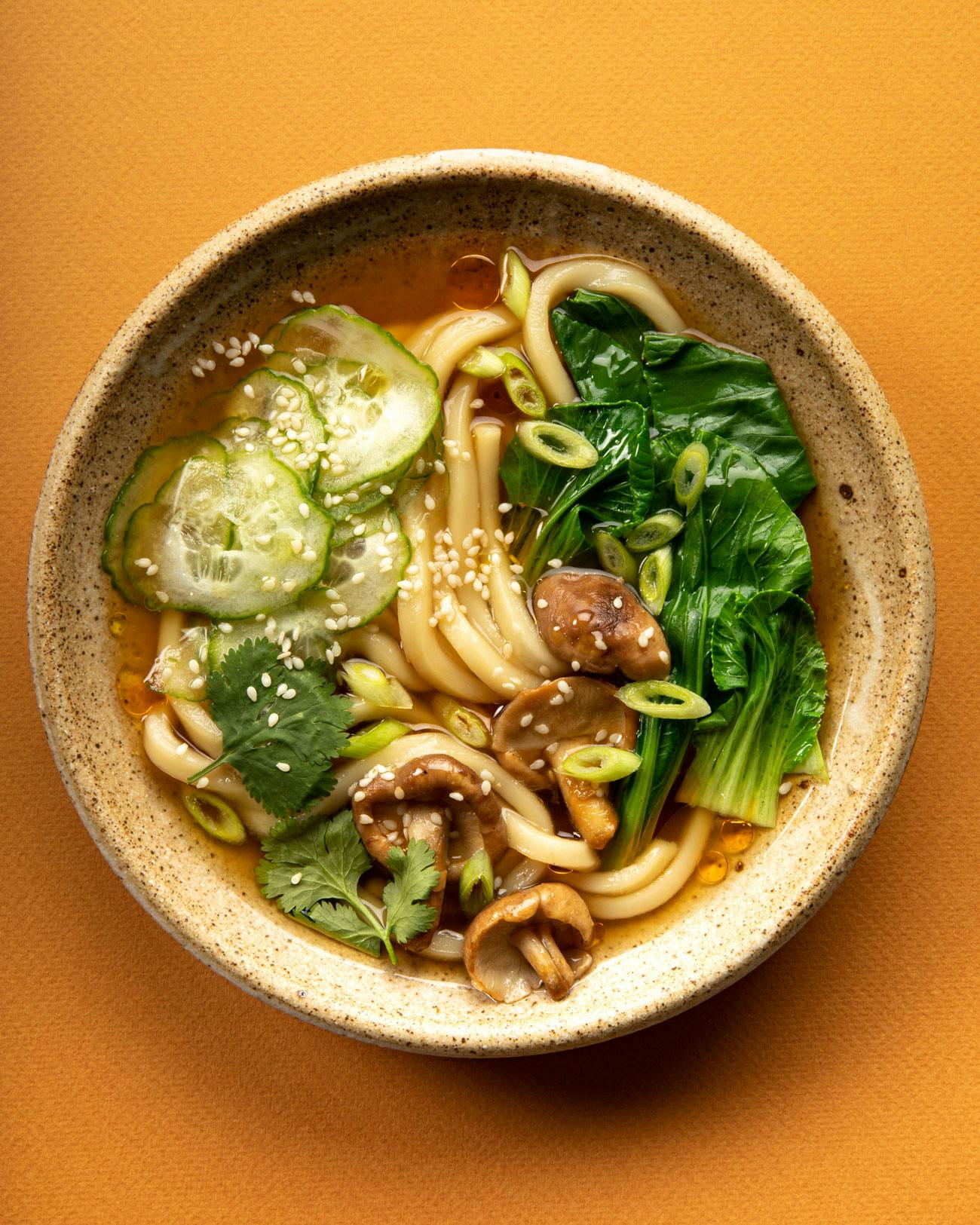 A warming miso-based soup that's hearty, fresh and nourishing. It comes together in under thirty minutes, requires only one pot and best of all, it's extremely hands-off. It's worth trying to get your hands on any type of seaweed for this recipe. Seaweeds are a great source of Iodine and omega 3 fatty acids which can both be tricky to find natural sources of throughout the vegan diet.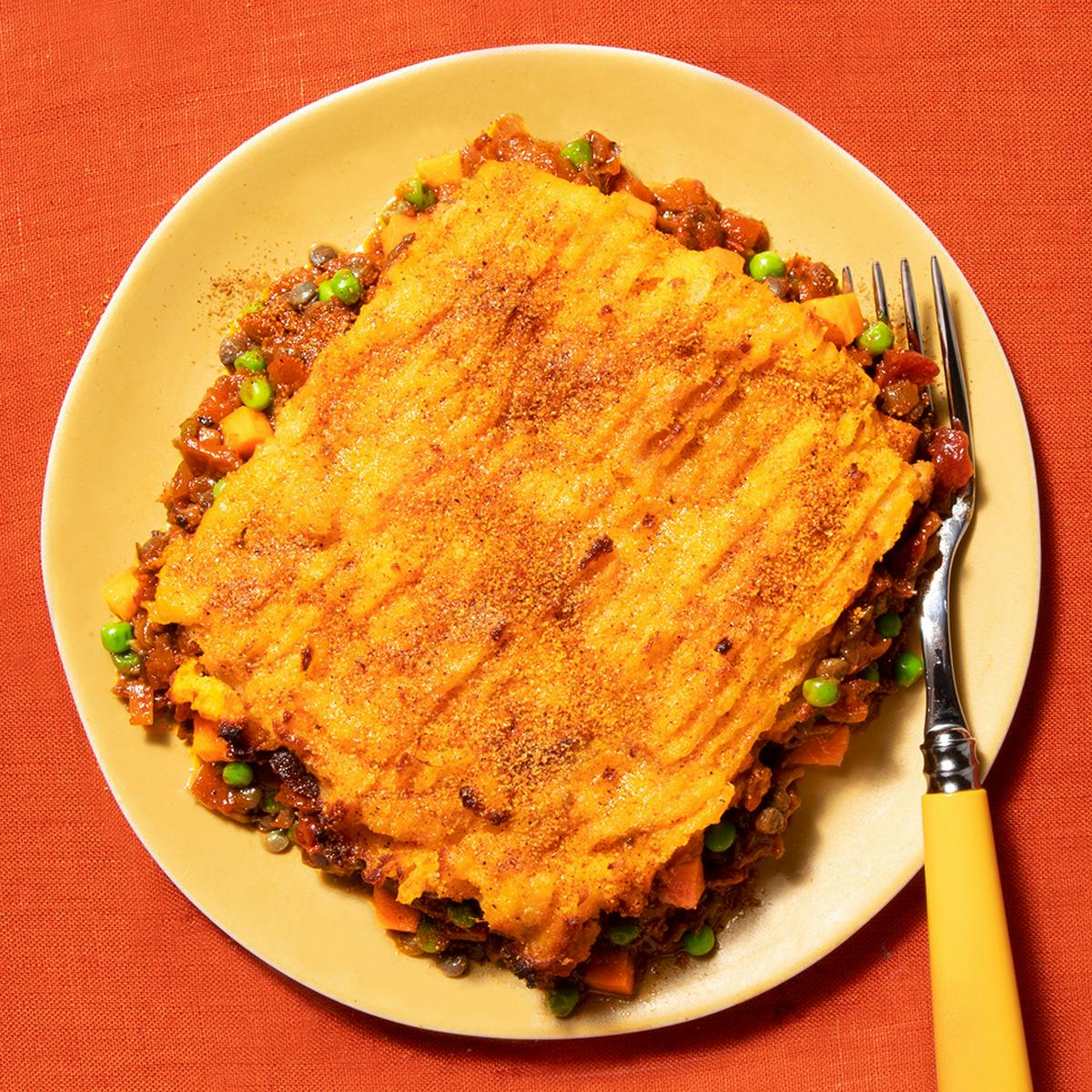 Seasoned soy mince, lentils and mushrooms in a rich gravy. Topped with a fluffy parsnip and potato mash. It's high in protein and packed with 3 of your 5 a day. 
Day 4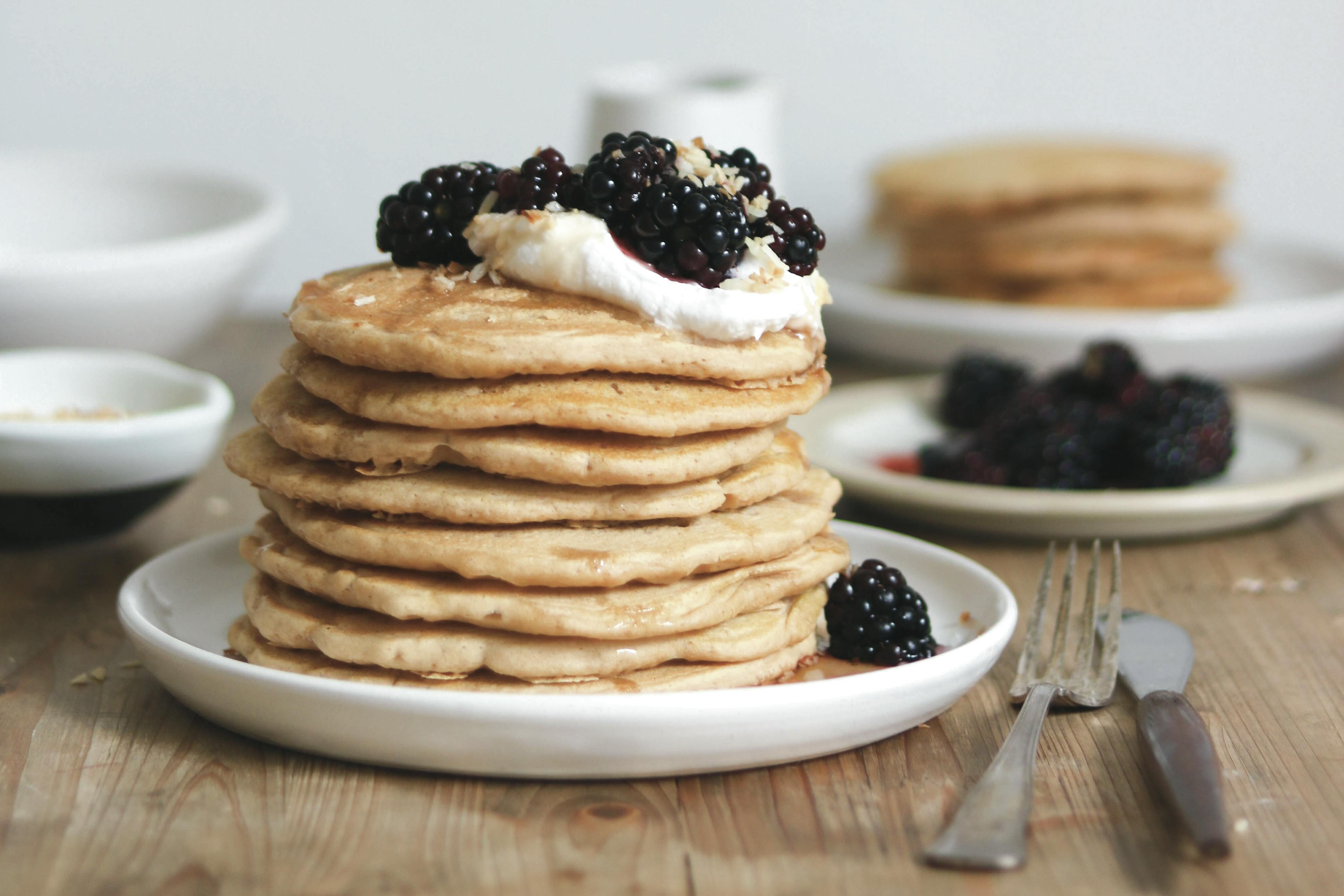 These pancakes are delicious — you certainly wouldn't know they were vegan. Top them with some fresh berries and coconut yoghurt for a perfectly balanced start to the day.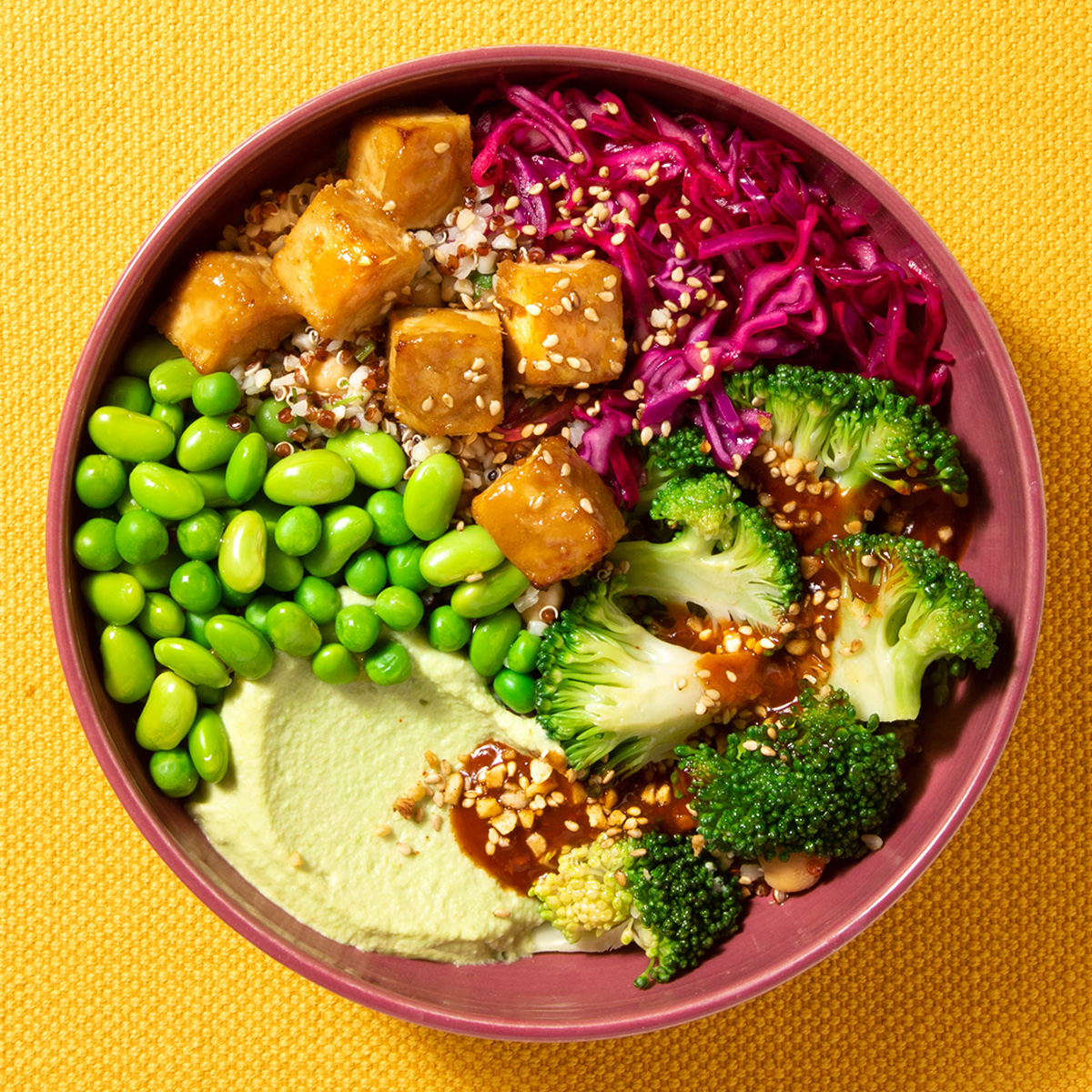 Miso-roasted tofu, coconut and edamame smash, with power grains, sweet chilli broccoli, sesame cabbage, and a pea and edamame medley. This dish is high in protein, with over 25g per serving. It's three of your five a day, high in vitamin C and Iron and a source of dietary fibre.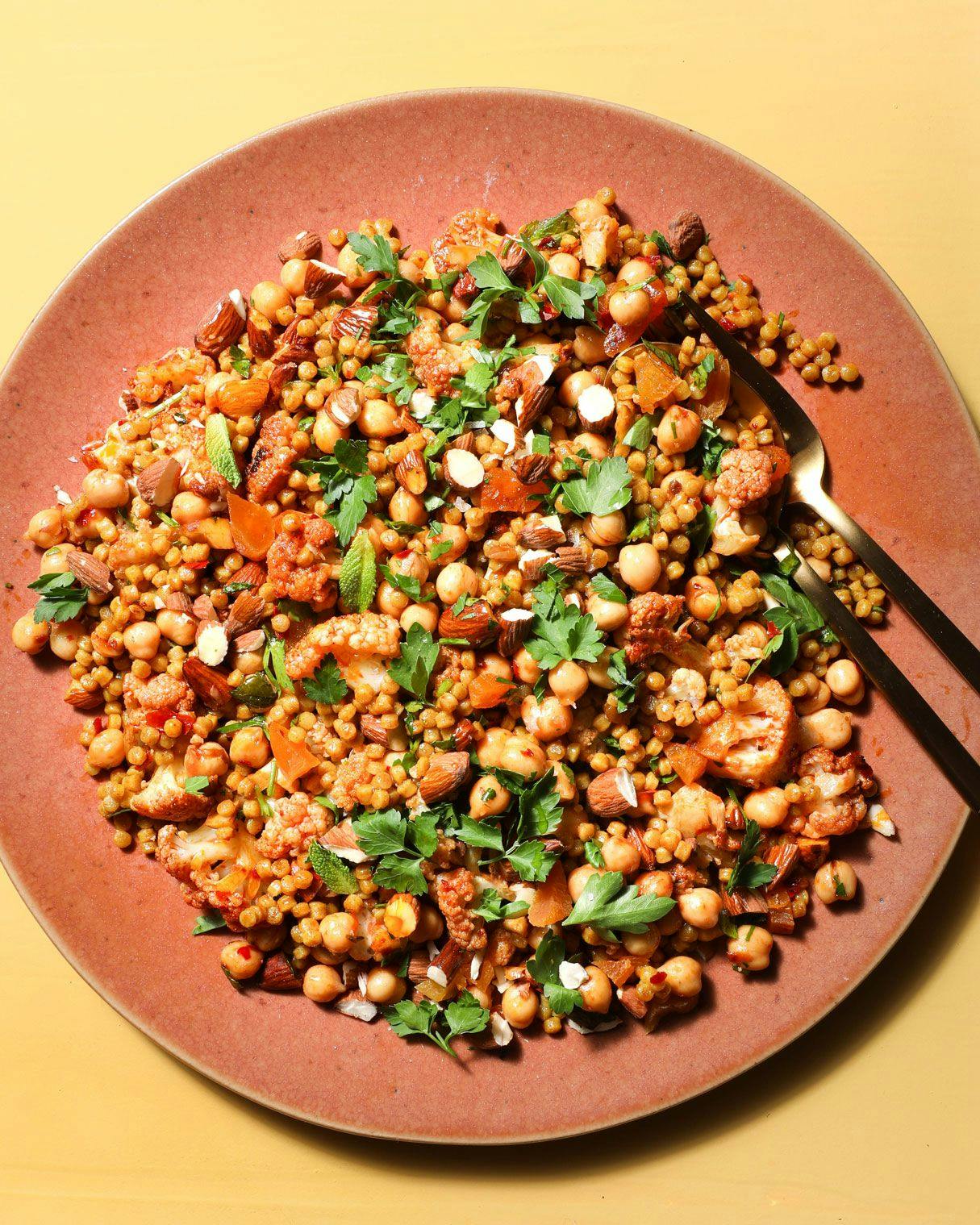 This cauliflower salad recipe is hearty, colourful and completely delicious. This middle eastern inspired dish is also nutritious, quick to make and very easy to eat a whole bowl-full by yourself. Cauliflower is packed full of many different nutrients, as a stand out it contains an antioxidant (called sulforaphane) which has anti-inflammatory properties, helping reduce the risk of cell damage and toxin formation. 
Day 5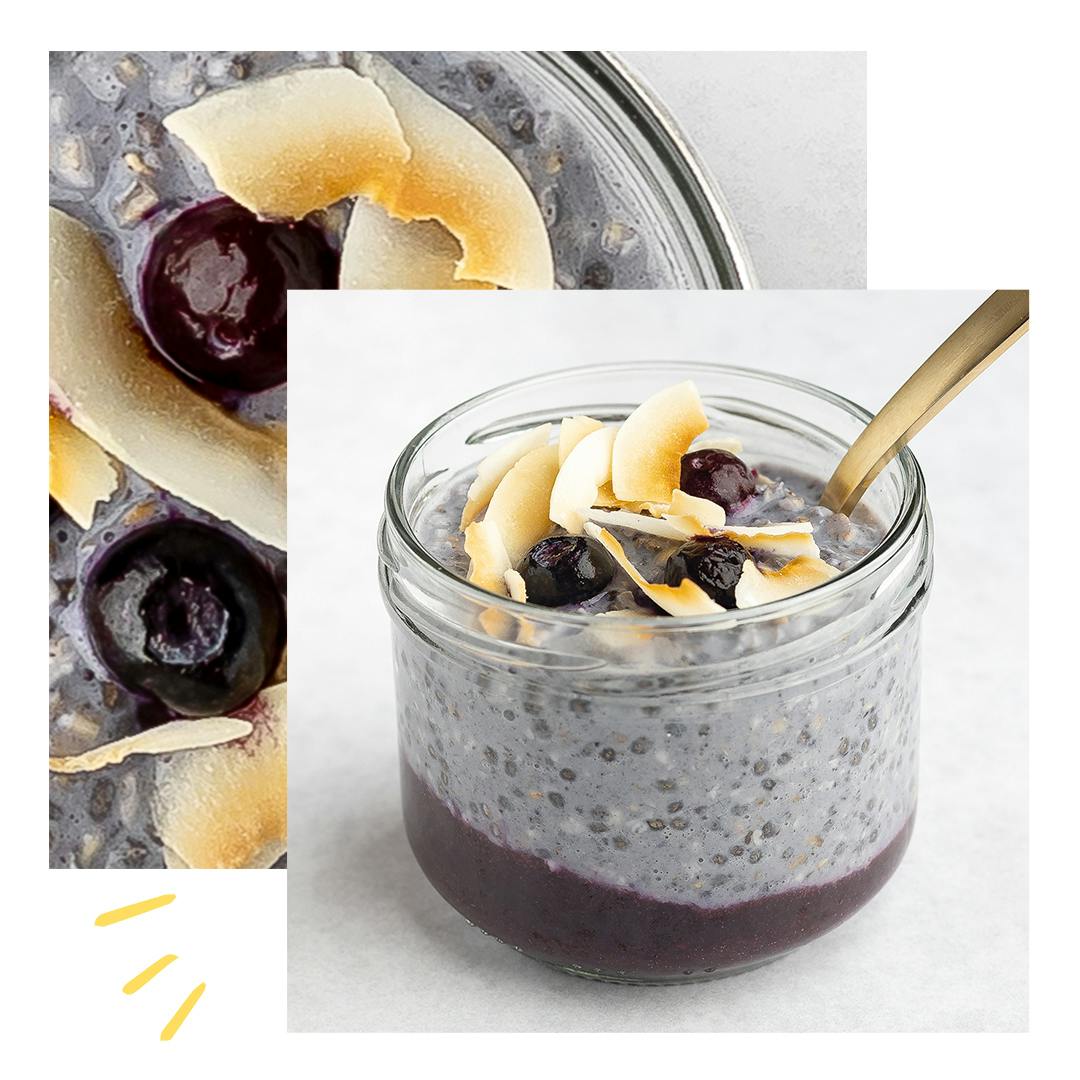 A creamy blend of oats and chia seeds, with vanilla, toasted coconut, and a wild blueberry compote. Blueberries are a great source of antioxidants, they have the highest antioxidant content of many fruits and vegetables.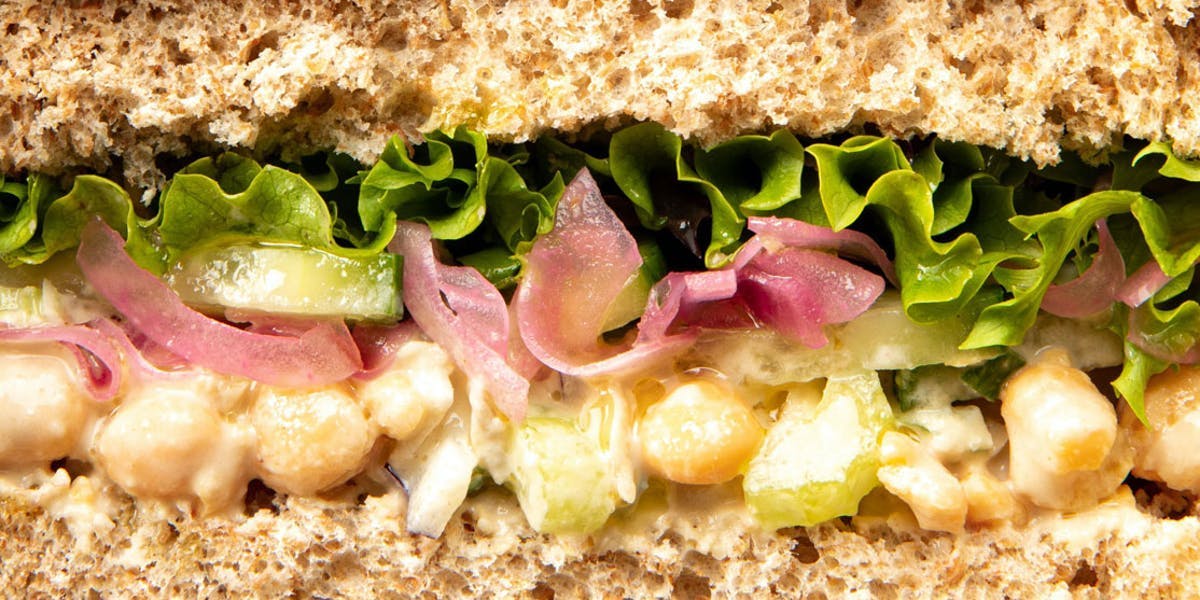 This vegan chickpea 'tuna' sandwich is as flavourful, quick and easy as lunch can get. It's extremely cupboard friendly and endlessly adaptable to what you might have on hand. No chickpeas? No problem, use cannellini or butter beans. All out of vegan mayo? Sub it for tahini (loosened with a little water), hummus or even vegan yoghurt.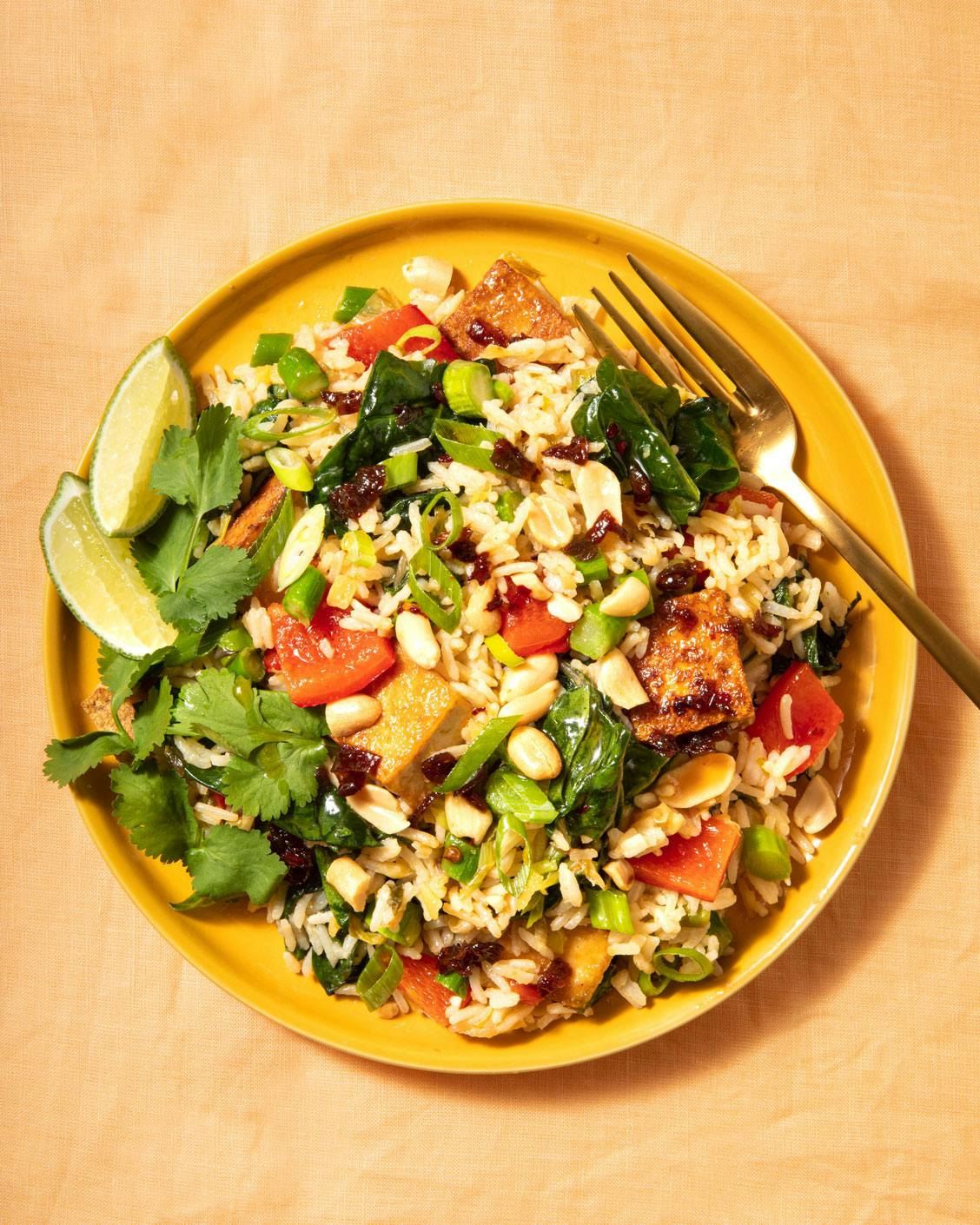 A crispy, bright, and deeply savoury vegan tofu fried rice here to fulfil all of your take-out needs. Tofu is a great source of plant protein, iron and calcium. It also acts as a flavour sponge and will soak up any tasty marinade you put over it. 
Snacks + Nibbles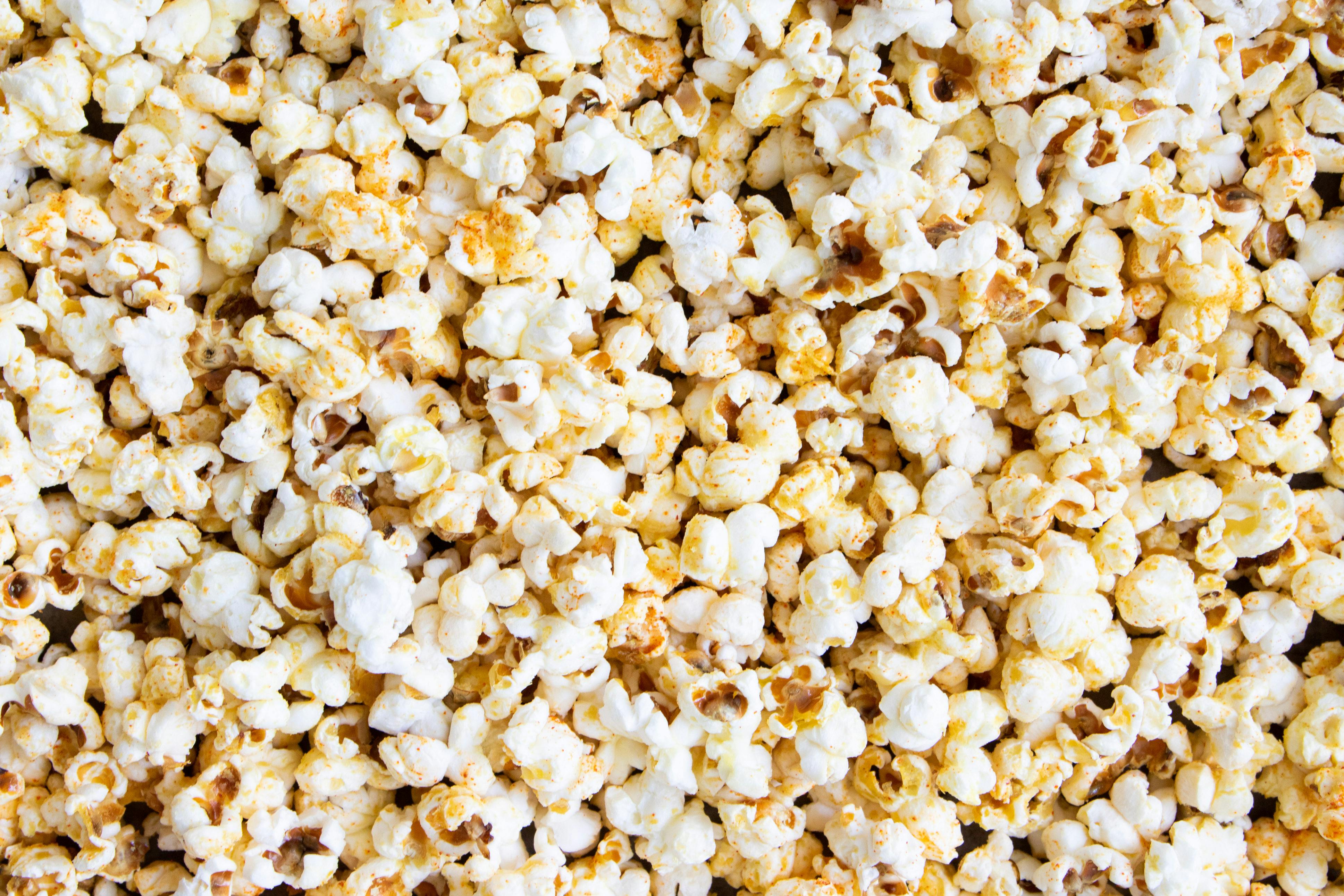 In my opinion, going hungry should not be an option on a diet plan! As there are only three meals a day suggested above, it is likely that you will want to incorporate a few snacks throughout. Check out our section on our favourite vegan snacks from the blog, also fresh fruit and vegetables are a great convenient go-to snack. Some of my favourites are carrot and cucumber sticks with your favourite dip or watermelon with a squeeze of lime or a nice juicy granny smith apple. 
If you are rushed for time and want to add in one of your five a day, smoothies are a great way to do so. The allplants range of smoothies has a variety of fruits with additional chia seeds, oats, nuts, protein powder and some sneaky greens for a nutritional boost.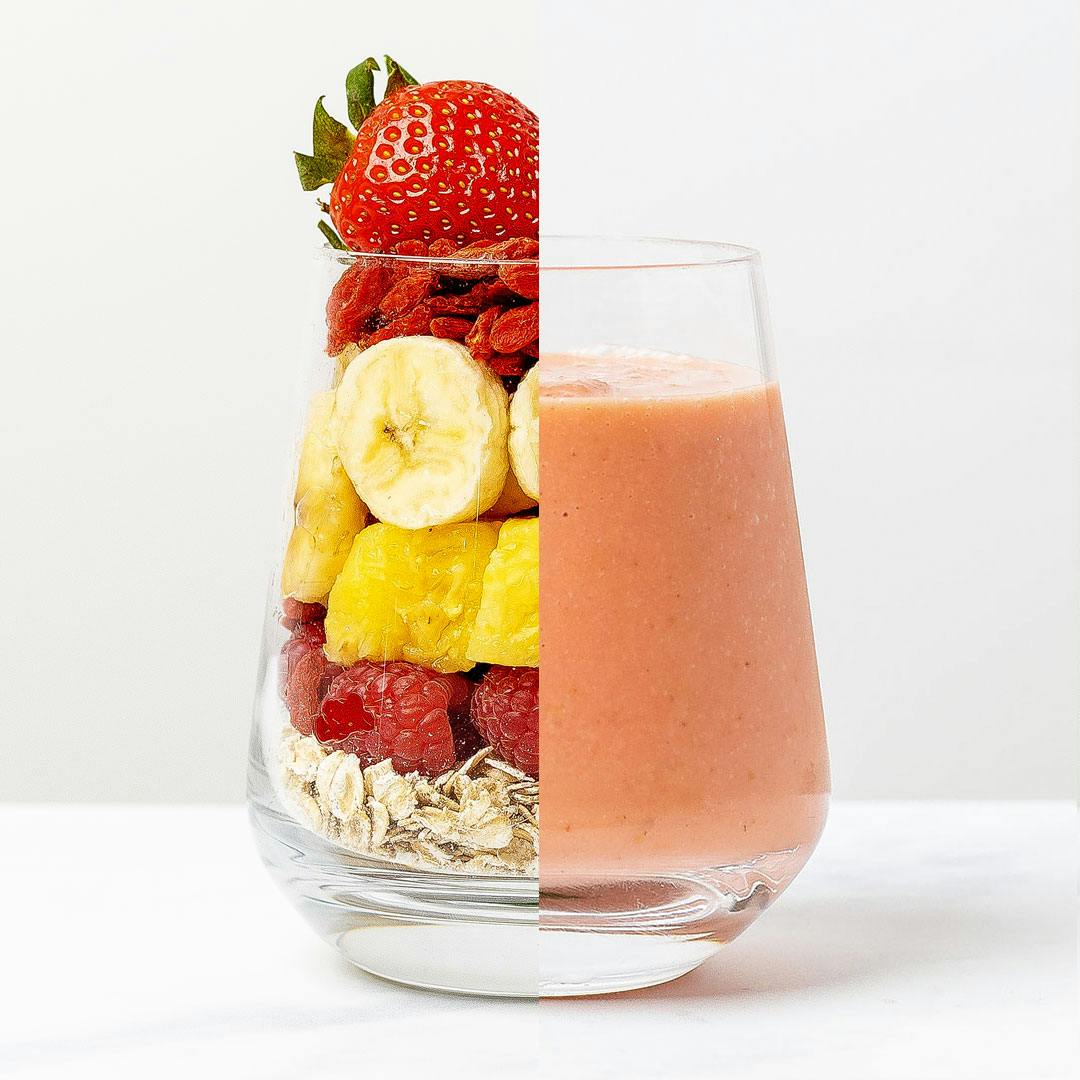 A crucial part of the vegan diet is taking in a variety of different fruits and vegetables, eating fruits and veg of all different colours will make sure you are taking in a diverse range of vitamins and minerals. Snacking on when hungry, or adding fruits and veg to meals where possible is the best way to get a wide variety included in your diet. 
Making your own, or buying (Mani Life + Pip and Nut are my favourites) nut butter. Nuts are packed full of protein and healthy fats, nut butters are so versatile and great as a snack on fruit, rice cakes or toast! Just be careful with the portion sizes and sneaky ingredients (palm oil is commonly used!), nuts are very nutrient-dense and it can be tempting to eat the whole jar… the recommended portion size is between 1-2 tablespoons. 
If you're a savory crisp snacker, check out this blog post on some of our favourite vegan savoury supermarket snacks. 
If, like me, you love a little sweet treat — there are many delicious veganised versions of your favourite classic cookies, cakes and bakes over on the blog here. One of my personal favourites being the birthday cake cookies - a super simple recipe and great to take along to a friend or family members birthday party - they would never tell they are vegan! 
A few extra tips
The journey of switching to a plant-based diet will be different for everyone, and it can take some time for your body to get used to the switch. Some people find it works best for them to do things gradually, by changing to milk and dairy alternatives first, then swapping meat and other animal products after. Whereas some prefer to go 'cold turkey' and jump right into a fully vegan diet. There is no right or wrong approach here — just do what feels right for you! This meal plan is here for anyone who is keen to make the switch to a plant-based diet and needs some nutritional guidance or recipe inspiration to help get there. 
---
By Aly Findlay
Aly is our go-to nutrition hero as she studied Human Nutrition at uni (makes sense, right?). She's also always on hand to help our customers, and provide our team with coffee. Lots and lots of coffee. 
---
Let us take care of dinner
We help to make eating more plants easy and delicious. Fancy letting us take care of dinner? Check out our delicious meals here.
Shop now