Lifestyle
The Ultimate Guide to Vegan Snacks
6min read
Snacking as a vegan can sometimes feel like a minefield. Whilst there are lots of options out there, it can be tricky to navigate ingredients lists and supermarket isles. Here's our round up of easy and delicious vegan sweet and savoury snacks, as well as our guides to the best supermarket snacks out there. Because there's more to vegan snacking than carrot sticks and hummus (but make no mistake, hummus is definitely also in this guide, as it should be).
Sweet Cravings

Save on washing up and satisfy your oreo craving at the same time with this chocolatey, warm hug in a mug. Is there anything better? All you need is a mug, a microwave, and three ingredients — so I think we can all agree it's the easiest cake recipe ever.
Have a go at creating these easy, delicious, chocolate-y vegan brownies in under 5 minutes. These quick, tasty bites in a mug are a definite time saver and tummy pleaser for sweet lovers out there.
Name a better duo than chocolate and peanut butter. We've turned the best combination into a fudgy, rich and creamy vegan mug cake. Topped with salted peanuts this recipe is guaranteed to satisfy your sweet cravings around the clock. Cake for breakfast? Sure.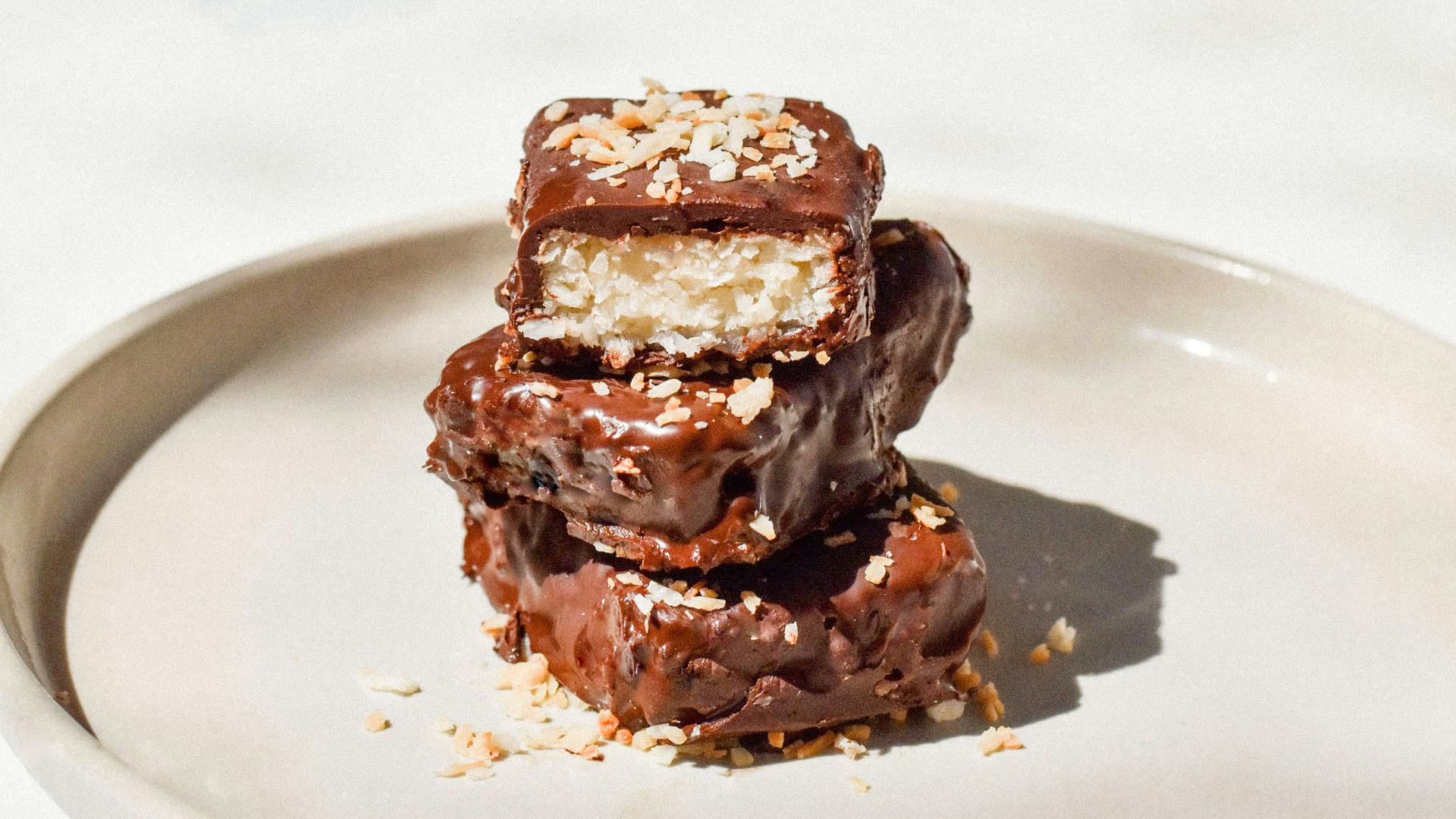 Introducing our take on the classic bounty bar. This vegan version is sweet, coconutty and familiar, and you won't be able to stop eating it.
These vegan creme brulee come together quickly and with three ingredients. They're delicious, rich, smooth and creamy — just like the classic.
This giant vegan chocolate chip cookie is what we all need right now. It's chewy, soft and crisp and best of all, it can (and should) be eaten straight out of the tin.
This chocolatey and fudgy vegan self-saucing pudding is almost as quick to put together as it is to eat. It comes together in one baking dish and is as basically easy as baking gets.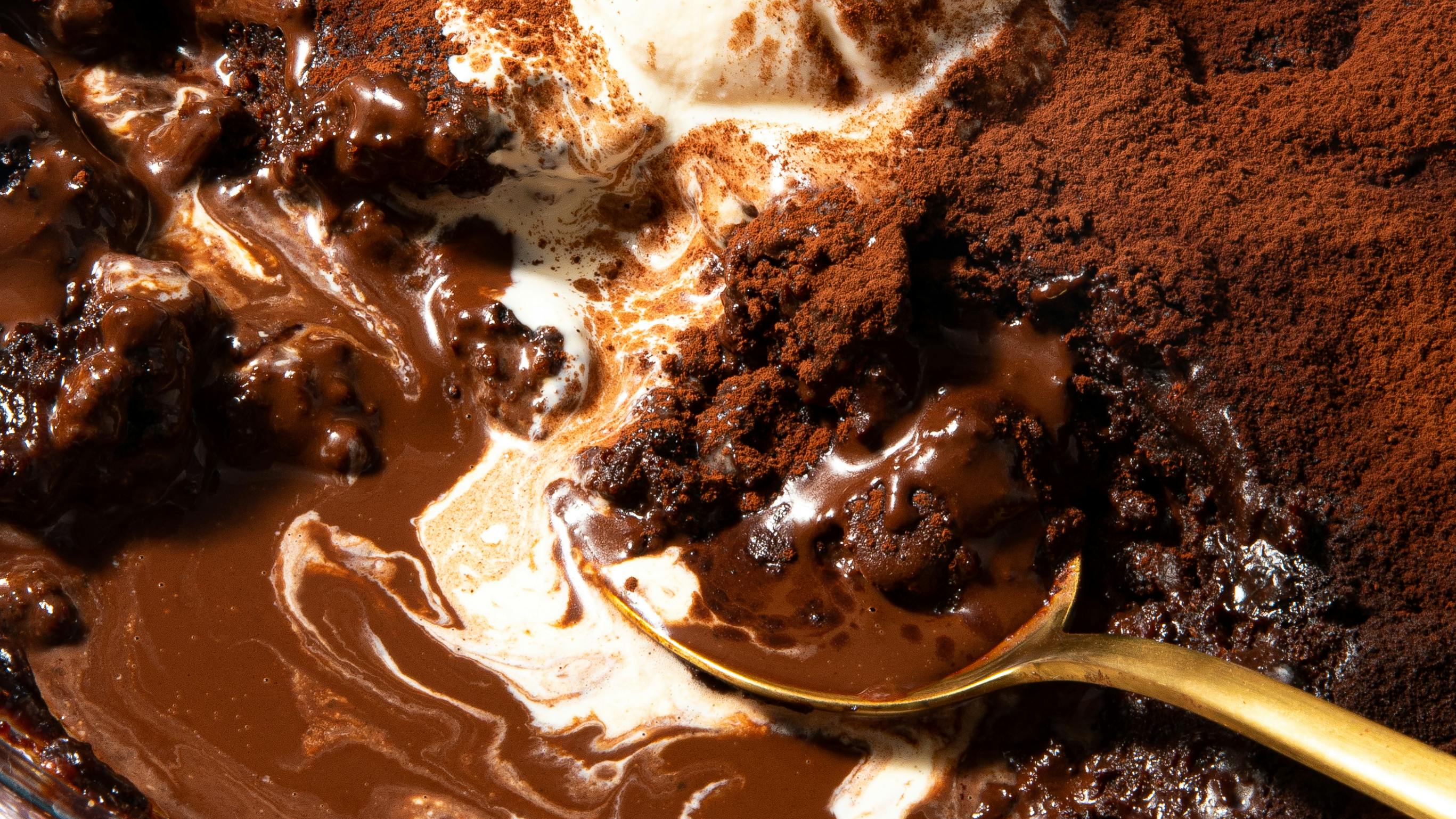 This vegan tiffin is just as rich, fudgy and easy as the classic. Best of all, it requires no baking, very minimal work and can be adapted to what you have on hand. If you can't find cherries, feel free to sub them for raisins. If you don't have digestive biscuits on hand, use whichever plain biscuit you do have.
Craving something sweet, sharp and nutty? Have a bite of our deliciously fruity vegan apricot flapjacks. Loaded with tangy apricots, crunchy pecan nuts folded in golden syrup-y oats and topped with delicate vegan white chocolate, these classic golden squares will make your day brighter and more delicious.
These vegan gluten-free peanut butter granola bars are our saviours on busy mornings and afternoons. We add in dried cherries, cranberries and almonds for a pop of flavour, freshness and texture, but you can use any dried fruit and nut you have on hand, including (but not limited to) currants, raisins dates and apricots — the limit does not exist.
Dates
For a delicious snack in under a minute, slice a medjool date in half, remove the pit and fill it with crunchy peanut butter. To make it even better, pop a piece of dark chocolate inside. Thank us later.
Savoury Cravings

Classic hummus is great, but this one becomes infinitely creamier and silky thanks to the addition of avocado. It's brigheted with fresh herbs like chives, parsley and dill, but you can use whatever you have on hand.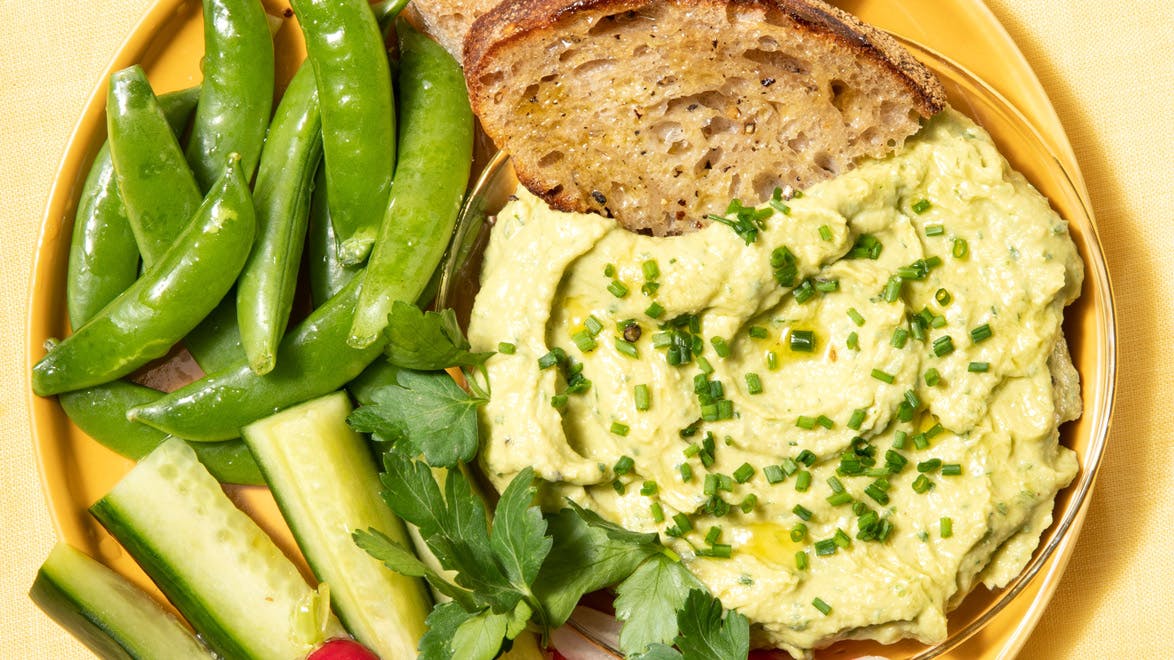 A creamy, smoky and rich vegan sun-dried tomato dip which is yoghurt, mayo and tofu free. Instead, it relies on cashews for its velvety consistency and mild sweetness. It also tastes delicious with anything you can think of — from veg, to crackers and crisps, you name it.
There isn't anything that this bright and creamy vegan tzatziki doesn't make better — from toasted bread and crackers to fresh veg and crisps. It also only takes 5 minutes and one bowl to pull together — no food processor, no blender. Win win.
Making popcorn at home is delicious, inexpensive and extremely easy. This vegan cheese popcorn tastes salty, buttery and cheesy without containing any actual cheese or butter. A true miracle!
These crispy, crunchy, toasty tamari roasted cashews are the only thing to save us during a 4:30 afternoon slump. They're packed with flavour, don't make us crash (looking at you, chocolate bars) and keep us satisfied until dinner. They continue to crisp as they cool, so make sure to let them stand for at least 15 minutes before diving in.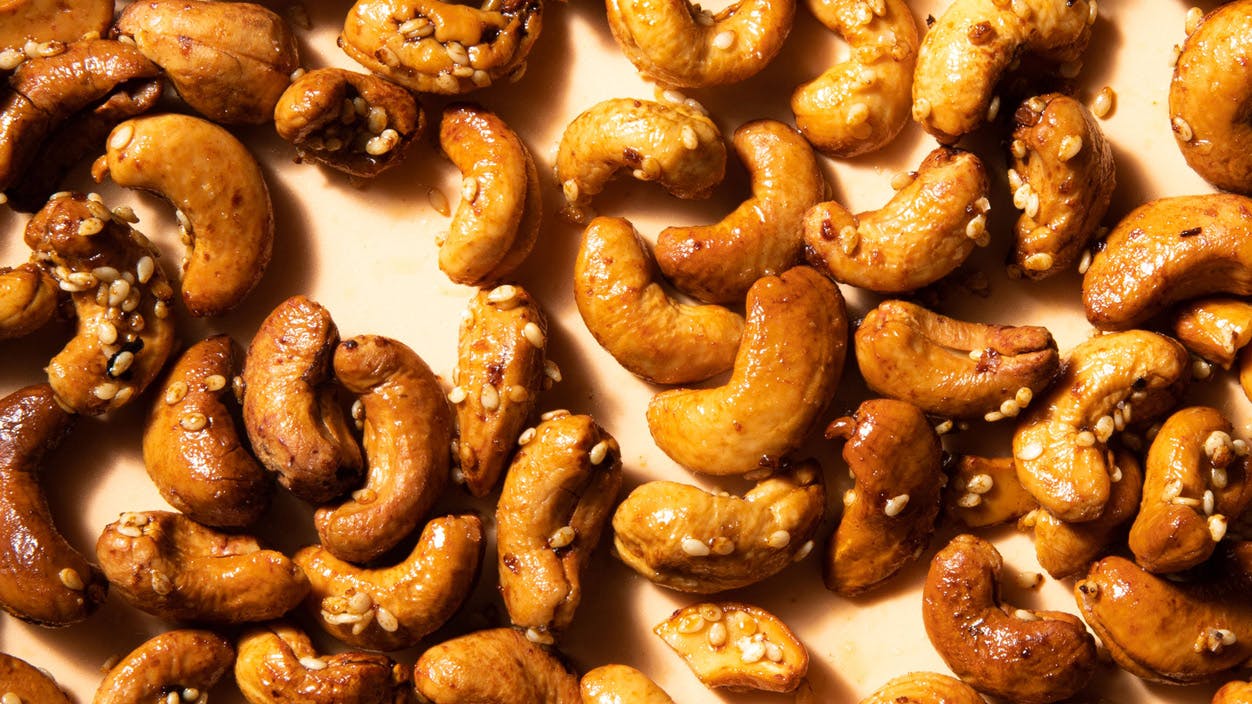 Want an easy, scrumptious snack to jazz up your afternoon? Try our easy four-ingredient Filipino adobong mani recipe and it will change how you snack on peanuts forever.
This extra gooey and extra delicious vegan cheese toastie recipe was created to get you through your cheese cravings. It's rich, buttery and comforting and only takes 15 minutes to pull together.
Smoky, fresh, cheesy and spicy vegan nachos. They're packed with flavour as is, but you're welcome to top them with your ride-or-die nacho toppings like guacamole and sour cream, or to drown them in hot sauce for an extra kick.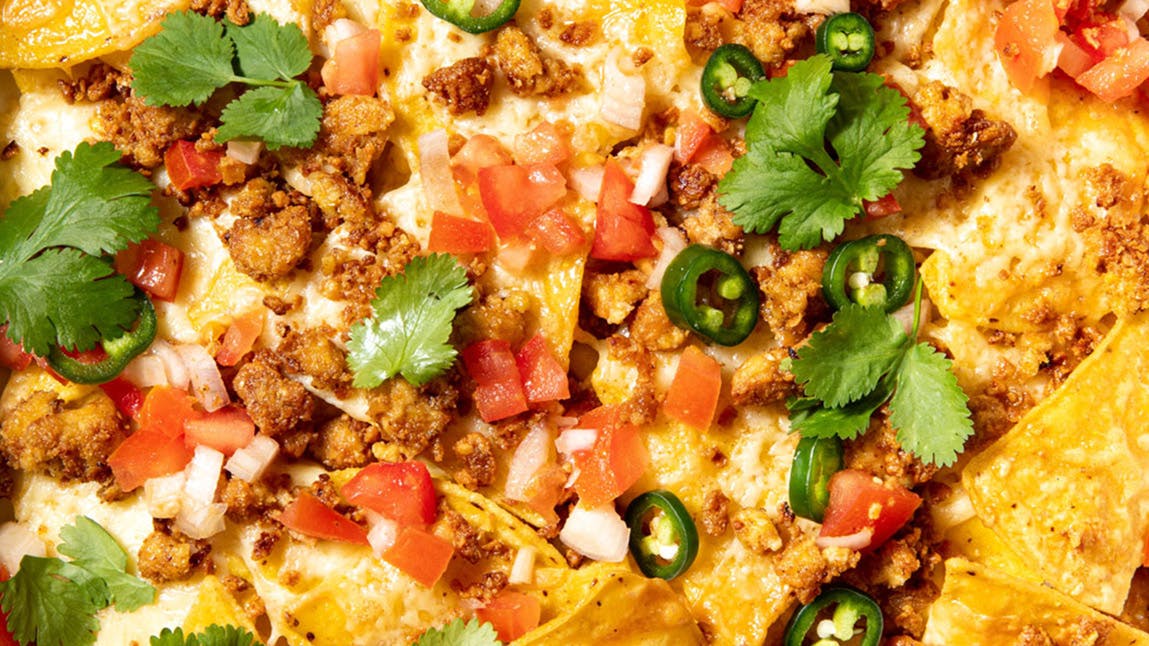 Supermarket guides
Snacks from scratch are great, but sometimes you just want to pop a packet open and snack without any fuss. For those moments, head to our shopping basket guides to find all of the best snacks. Vegan sweets,biscuits, chocolate, crisps, yoghurts and ice creams are on the market waiting for you to get taste-testing.
---
By Valentina Concordia
Valentina is our Food Editor, who dreams up our tasty dishes and recipes for our social channels. She has loads of experience cooking up a storm in Italian kitchens, so it's no surprise she can't live without good-quality olive oil (don't come between her and her olive oil) and fresh pasta.
---
Let us take care of dinner
We help to make eating more plants easy and delicious. Fancy letting us take care of dinner? Check out our delicious meals here.